home | meat grinders | sausage stuffers | sausage casings | e-mail SausageMania | NEW! Sausage Photo Tutorial | sausageMania recipes |more SausageMania recipes | motorize a grinder | tips | links | kippermania | loxmania | NEW! PestoMania | NEW! Even MORE SausageMania Recipes! | NEW! Lox Making Photo Tutorial | NEW! CaviarMania | NEW! Porcini Sausage!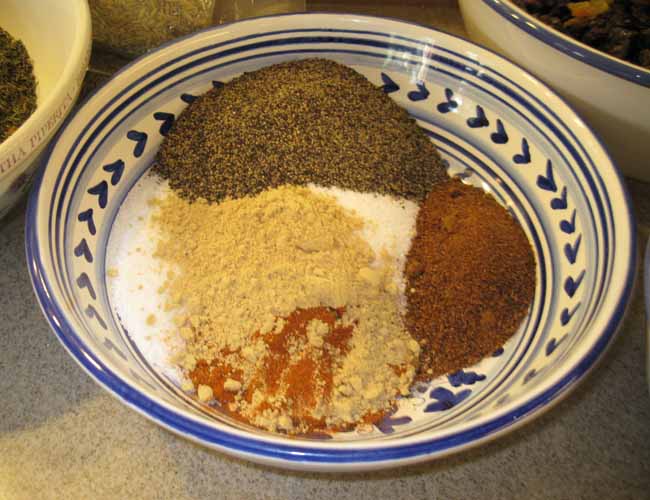 Fresh Spices (Plus Salt, of Course) in Bowl, Ready to Add to Sausage Mix
New, Easy-to-Make Sausage Recipes — from SausageMania.com!

The response to SausageMania's original recipes was so overwhelming, that we've added yet a third page of more mouth-watering sausage recipes: Russian Fruit Sausage and Cajun Chaurice. Remember, all of SausageMania's recipes can be viewed in a Microsoft Excel spreadsheet — all you do is input the number of pounds of sausage grind you have and the quantities of all the other ingredients will be automatically calculated. To download the Excel version of SausageMania's recipes, Click HERE.

Please note that the amount of salt for each of the sausage recipes is rather reduced by current sausage making standards. You can always add salt to your mixture, but if it's too salty, there's nothing you can do other than add more ground meat — usually a lot more! That's why it's always a good idea to fry up a few sample patties first, before doing all the work of filling the casings.

We will not Swear in a Court of Law that this is a genuine Russian sausage recipe. Most Russian sauages, like sausages from the rest of Eastern Europe, are dry, bland, too fatty and as chewy as chicle. These sausages, however, are made with Genuine Russian Pomegranate Molasses, which is actually the only thing Russian about them, so they are about as genuine as Godfather's Deep Dish Pizza is Neapolitan, or as Chow Mein is Chinese. But regardless of their provenance, they have a fine flavor and are worthy of inclusion in the pantheon of SausageMania's recipes.

This sausage is quite eclectic, in fact, drawing on Russian, Mexican, Chinese and Southeast Asian ingredients, so it may be considered a Trans-National Sausage, rather like Soccer is a Trans-National sport.

Pomegranate molasses may be found in Russian or "European" groceries in most major US cities, though you might be hard-pressed to find it in Des Moines.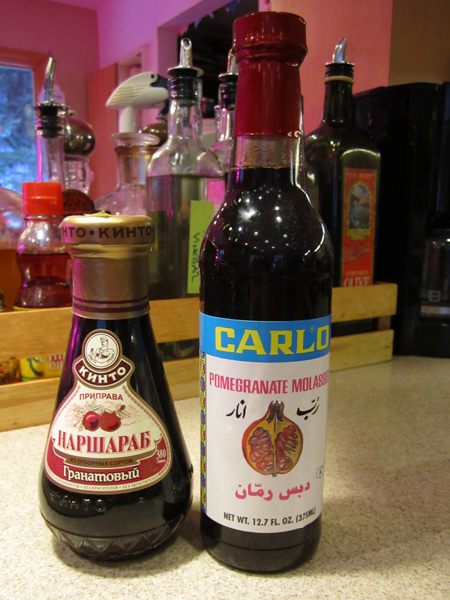 Two Varieties of Pomegranate Molasses: one Russian, the Other From an Foreign Country Not Identified on the Label.
But enough chatter: here's the recipe for one pound. As usual, multiply by the number of pounds of pork to get the correct amounts. Use 3/8" plate. Stuff into 28-32mm hog casings.
• Ground pork: 1 lb.
• Coarse salt: 1/2 tablespoon
• Garlic: 1 clove
• Sun-dried tomatoes, chopped: 2 tsp
• Ground Sichuan Pepper: 1/3 teaspoon
• Ground Chipotle Pepper: 1/3 teaspoon
• Pomegranate Molasses: 2 teaspoons
• Fish Sauce: 2 drops
• White Raisins: 3-1/4 tbsp
• Reduced Apple Cider: 2 tbsp
• Dried Apricots, chopped: 3-1/4 tbsp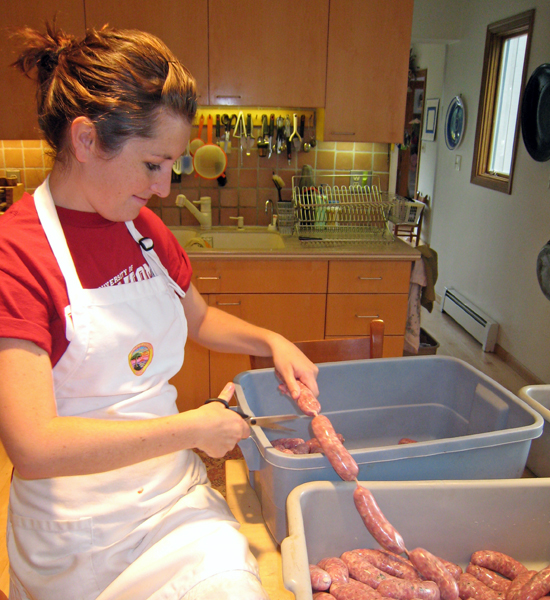 Cutting Russian Pomegranate Sausage into Links for Packing

This is a fairly standard recipe for chaurice, which goes well with many Cajun dishes. It has more ingredients than most sausage recipes, but they blend together to make a subtle amalgam of flavors. Stuff into hog casings.
• Ground pork: 1 lb.
• Coarse salt: 1/2 tablespoon
• Diced onions: 5 tablespoons
• Ground cayenne: 1/4 teaspoon
• Ground cinnamon: 1/8 teaspoon
• Ground cloves: 1/8 teaspoon
• Powdered thyme: 1/3 teaspoon
• Ground bay leaf: 3 leaves
• Crushed garlic cloves: 1
• Chopped parsley: 1 tablespoon
• Crushed garlic cloves: 1-1/2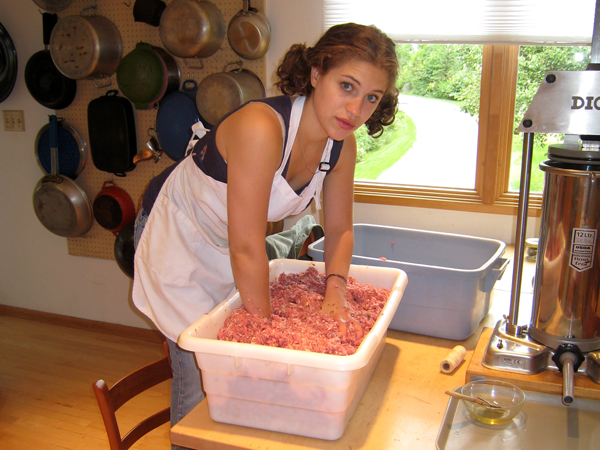 This Girl Stands on a Chair to Get Traction. That's 60 lbs of Chaurice Sausage Mix in the Bin: Sausage Making can be Aerobic Exercise!
Here is a SausageMania.com APPROVED FOUR-STAR sausage recipe site, Fast Recipes, with more than 80 recipes for making a wide variety of sausages and sauage-based dishes, including Italian, Hungarian, German, Polish, Irish, Sicilian, English bangers, as well as traditional American sausage recipes. For you hunters out there, the site includes several recipes for venison and caribou sausage as well. Fast Recipes also has thousands of non-sausage recipes.